Years of Living Dangerously has been called the most important documentary series of our time.

"Years" aired in 171 countries & 45 languages.
The work of Citizens' Climate Lobby (with Jay Butera) aired Dec. 7th, 2016.
Watch now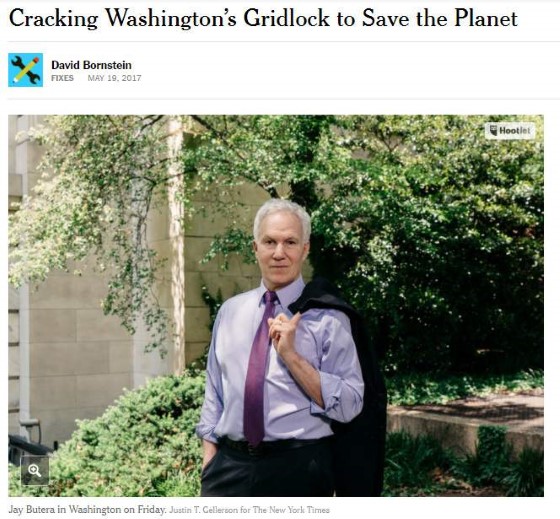 Cracking Washington's Gridlock to Save the Planet - The New York Times
---

Why is CCL's segment called "Safe Passage?" Senator Sheldon Whitehouse explains:

Above: Senator Sheldon Whitehouse (RI) and Greg Hamra at Pinecrest Gardens climate rally - 4/25/14, the day Jay Butera came to kickstart CCL Miami. Photo by Jay. Comments from Sen. Sheldon Whitehouse, FL Reps. Carlos Curbelo & Ted Deutch, Jay Butera. (1-min)

Below: Jay Butera & Greg Hamra, during mtg. in Rep. Ileana Ros-Lehtinen's District office - 5/22/15. Photo by the Congresswoman's Chief of Staff, Maytee Sanz.


The Members of Congress featured in our story, 'Safe Passage' — Rep. Carlos Curbelo, Rep. Lee Zeldin and Rep. Mia Love – were all reelected in November, 2016. After we finished filming our story, Congresswoman Love joined the Climate Solutions Caucus. yearsoflivingdangerously.com/story/safe-passage/ | #YEARSproject

---
FL-related trailers:
Official Trailer
No Solar in the Sunshine State w/Alissa Jean Shafer
Bradley Whitford interviews Jay Butera of CCL
Jack Black meets with Miami Mayors Stoddard and Levine
Miami's Building Boom
w/Reinaldo Borges
Dr. Keren Bolter introduces Delaney Reynolds
---
---
"Priceless" trailer on Carbon Pricing:

With a price on carbon, we wouldn't have to fight these relatively small battles for solar amendments, incentives, etc. Pure economics would make renewables the clear choice and the economy would benefit. Right now dirty energy gets to pollute for free. This has to stop. To erradicate the biggest free lunch in history, create millions of jobs and save lives, we need a revenue-neutral carbon fee and dividend. Click here to learn more about CCL's Carbon Fee & Dividend. There's huge support for pricing carbon.
---
Before the Flood is the stunning new documentary by Leonardo DiCaprio, also available on NatGeo. Trailer
WATCH FULL FILM NOW

Time to Choose is another, recent hard-hitting documentary that I highly recommend.

---