CCL Miami | Voices of Reason | Rex Tillerson | Jerry Taylor | Bob Inglis | Elon Musk | REMI report | July News
Recent CCL progress:
In February 2016, the bipartisan Climate Solutions Caucus was formed. (CCL's Climate Solutions Caucus page.)

A number of House Republicans, including U.S. Representatives Carlos Curbelo and Ileana Ros-Lehtinen, formed a bipartisan Climate Solutions Caucus with a team of Democrat counterparts. Hailed by NYTimes as "a promising step toward sanity" and "the caucus to save the world" by Bloomberg News, this working group is dedicated to educating members on economically-viable options to reduce climate risk and protect our nationís economy, security, infrastructure, agriculture, water supply and public safety.
March 15, 2017 - 17 House Republicans break ranks, call for climate action. This re-launch of the Republican Climate Resolution (H. Res. 195) seeks to "base our policy decisions in science and quantifiable facts on the ground" ...and "balance human activities that have been found to have an impact." Learn more.



Mia Love of Utah's 4th Congressional District (Salt Lake City) has joined the Climate Solutions Caucus!

The Delaney-Gibson Climate Solutions Commission Act (H.R. 6240) - a bipartisan commission was formed to develop economically viable policies to achieve science-based emissions reduction targets. Formed by Congressmen Delaney, Gibson, Curbelo, Dold, Lowenthal, Deutch, Peters.

Sep 16, 2015 - A group of House Republicans officially acknowledge human-caused climate change and vow congressional action.

By signing the Gibson Climate Resolution (H. Res. 424) thirteen House Republicans formally acknowledge human-caused climate change and vow congressional action. You read that right. Republicans, who've shown leadership and courage on climate. Facing our planet's biggest challenge, they bucked their party and did what's right, not what's popular in their party. Regarding the biggest challenge of our time, they're choosing planet over party. (and YOU should too) -- We're now up to 15!


While Reps Curbelo and Ros-Lehtinen have shown courage and leadership on this early on, one south Florida based U.S. Representative has shyed away from this. Mario Diaz-Balart has decided it's safer for him NOT to speak up about the climate impacts to his own constituents, the risks to infrastructure, the costs to the economy and the solutions and jobs that solutions would deliver. Instead, he has chosen to embrace the status quo, and do nothing about the issue at this time. This needs to change. When enough of his constituents get loud about this, maybe he'll find that courage to do what he knows is right. California Darrell Issa did. He joined the Climate Solutions Caucus!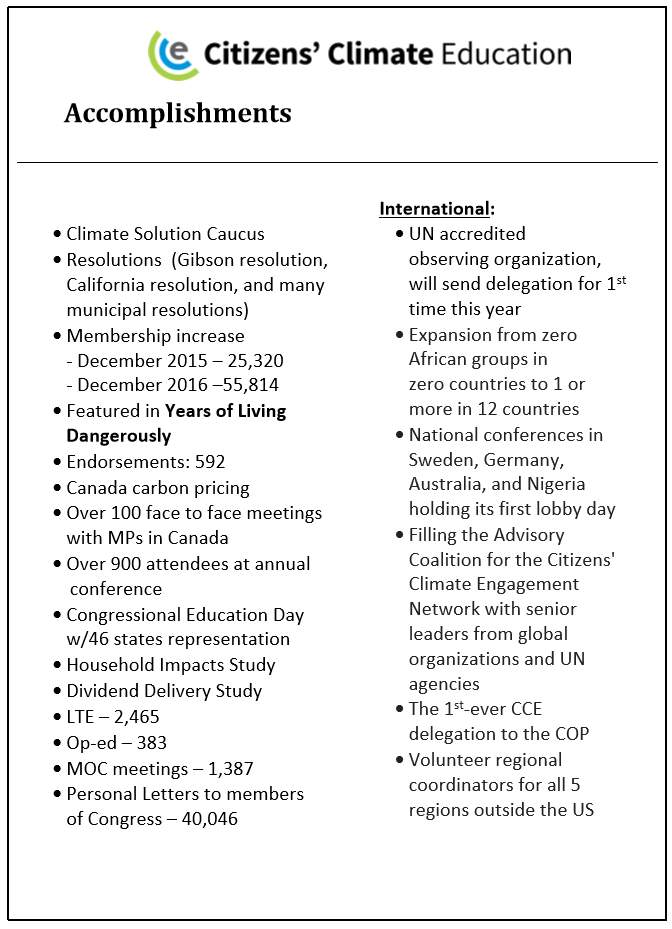 ---
CCL's tireless citizen volunteers advocate for political will for a stable climate. With CCL's help, we're starting to see and erosion of our country's partisan gridlock on climate. CCL is helping to bridge the partisan divide. We've changed the converstation on Capitol Hill. The group's historic first meeting took place April 20th in our nation's Capitol.
How did this come about?:
---